The name of the collecting courier will be clearly displayed on your shipping labels.
How do I see the collecting courier before I place my order?
You can find which courier will be collecting your parcel before you place your order. Once you enter your parcel details into our booking system, you will be taken to the quotes page. Clicking the "i" button on any courier option will tell you which courier will be collecting your parcel.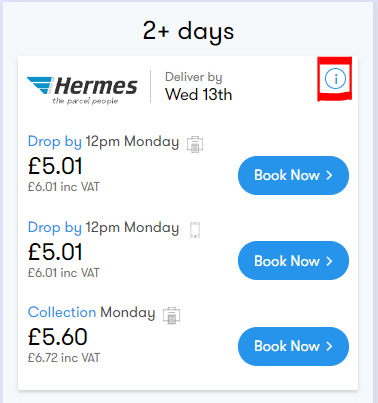 NOTE: If the service info says "This service is provided by ParcelHero" then your parcel will be collected by one of our premium couriers, who will be named on your shipping label.
Who collects if my package is travelling via Haverhill?
Sometimes the ParcelHero sortation centre at Haverhill will be listed on your shipping label as the destination. In this case, a different courier may collect your parcel than the courier who will be completing the rest of your delivery. The collecting courier will be named on the label and you can also check by clicking on the 'i' icon for this service.