What paperwork do I need for customs?
For most international destinations, your shipment will require a customs declaration form. Don't worry if you have never completed one of these before. During your booking procedure we will ask you a series of questions that are used to complete the form for you. For the majority of services, ParcelHero submits this electronically to the courier, however, some services do require printed paper copies of the form.
What information do I need to enter for customs?
You will need to provide customs with a full breakdown of everything you're sending, and why you are sending it. Customs will use this information to determine if any duty or tax is to be charged.
Tell us why you're sending your package
The 'Export reason' informs customs why you are shipping the parcel. In some cases, this makes your shipment eligible for some exemptions from duties charges. For example, gifts and personal effect shipments may have different or zero tariffs, depending on value and the country you are shipping your items to.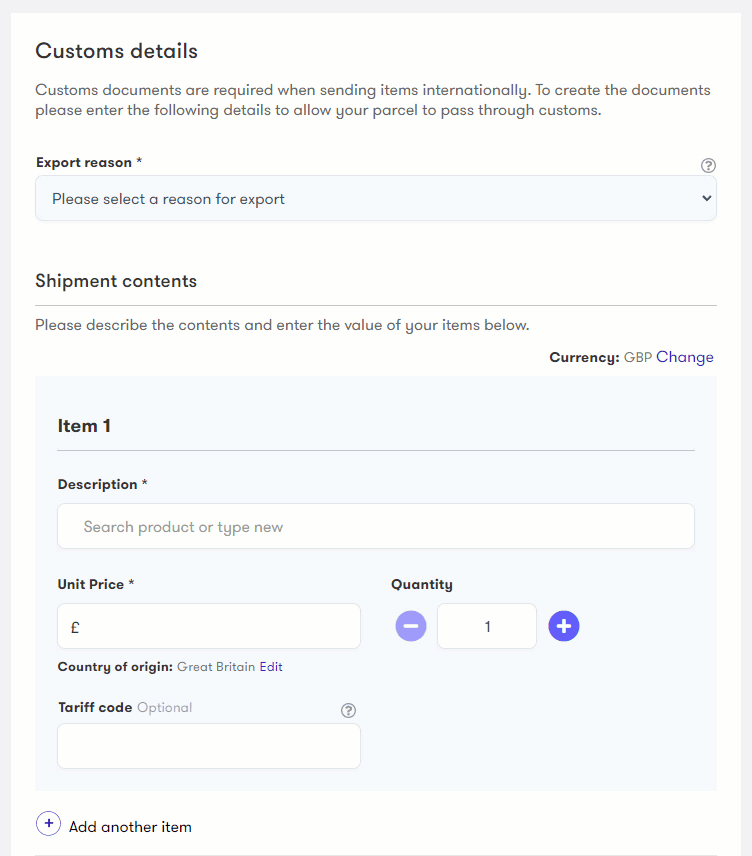 Tell us what items you are sending and in what quantity
For each item you are sending, please describe the item, tell us how many of that item your sending and what the total value is.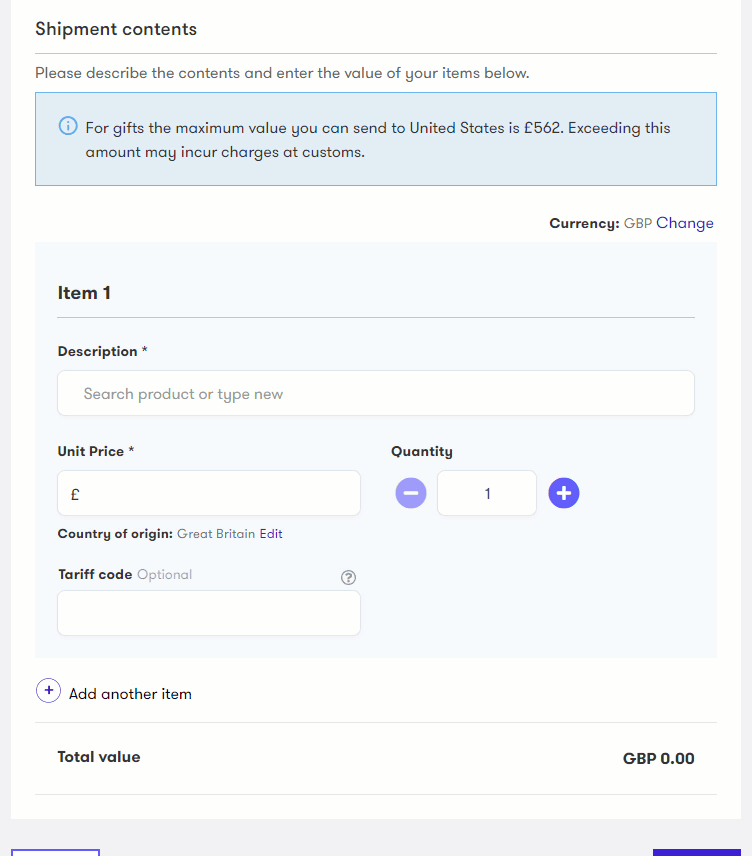 Quantity
If you are sending 3 wristwatches, set the quantity to 3, and type wristwatches in the description.
If you have multiple different items in your package, you will need separate sections for each. See "Adding another item" below.
Description
This is a description of your item. Please give as much specific information as possible, as this allows customs to make accurate assessments of whether charges apply to your shipment.
For example, instead of saying "books", provide extra information like "medical textbooks".
As a general rule, the more information you can provide the better. Declaring "Casio CM432 Digital Watch – New" is more helpful than simply "Wristwatch".
Value
This is the total value of the specific item you are declaring, not the full parcel. This is the current value of the item, or what it could cost to replace. Be as accurate as possible, as this helps customs assess the charges and exemptions available for your shipment.
Tariff Code
Every item in the world has a tariff code classification, from a metal chair to a diecast toy car. Tariff codes are used by customs to calculate whether any duty or tax is applicable for each item. You don't have to provide one but doing so could reduce the tax your recipient pays as it allows customs to judge the contents more effectively.
Click here to lookup a tariff code
Tariff codes are extremely specific and provide a great deal of information about your goods. For example, the code 91011100 is for Wristwatches, electrically operated, with mechanical display only.
Country of Origin
This is where the goods in your shipment come from or where they were manufactured. Unless you are selling the goods, it's okay to list the same country as your collection address.
Adding another item
When your shipment contains multiple items in the same package, you should add each item individually. After adding the information for the first item, click "Add another item".
This will allow you to add more items to your declaration.
Are there any exemptions to customs and duty fees?
Most countries have exemptions for gifts, personal effects and business samples, up to a certain value. If the country you're sending to has an exemption, we will prompt you to let you know what's the maximum value you can declare in order to qualify for that exemption.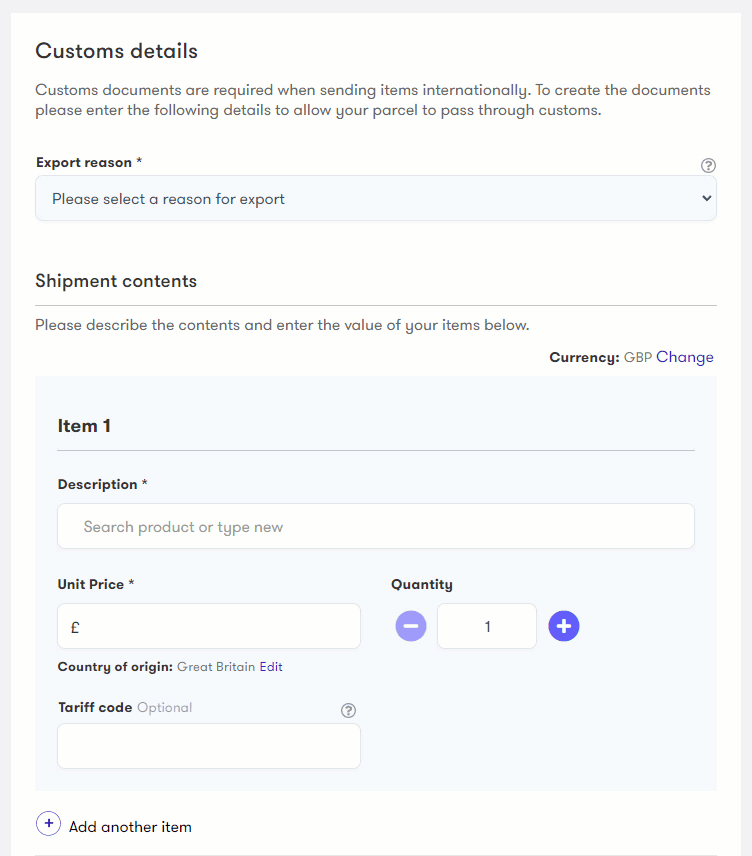 Paying customs and duties charges in advance
It's possible to pay the customs and duties charges in advance of clearing customs in situations when it may be inappropriate to pass the costs on to your recipient. This service is called Deliver Duty Paid (DDP)
To organise paying customs and duties in advance, please get in touch with customer services.
This must be organised before the parcel is collected and a fee is charged for this service. Once organised, a new shipping label and customs invoice will be issued, and when your parcel arrives at customs, the fees will be paid on your behalf.